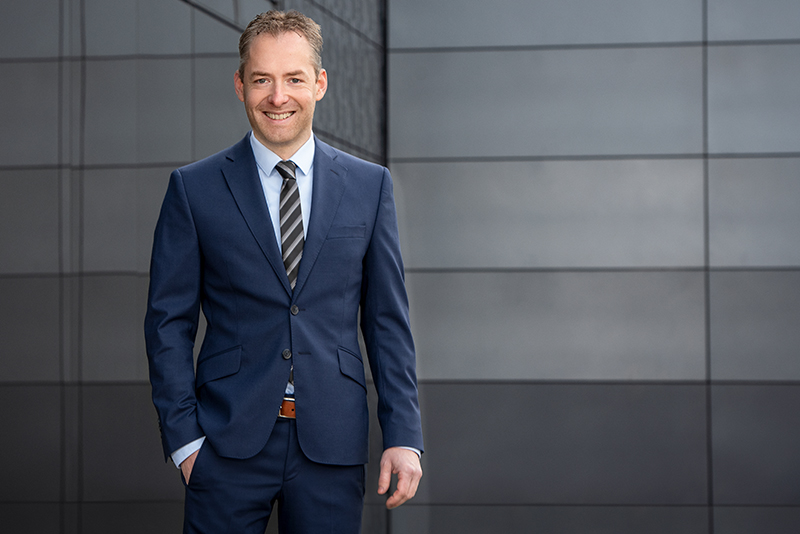 Since January 1, 2018, Mario Pothen has been Research Manager of ICNAP's publicly funded research area, in which the three Aachen-based Fraunhofer Institutes Fraunhofer IPT, Fraunhofer ILT and Fraunhofer IME conduct joint research on digitization topics. Mario earned a diploma in computer engineering at the Niederrhein University of Applied Sciences in Krefeld and then completed a master's degree in computer science at Heinrich Heine University in Düsseldorf. In 2020, he received his doctorate in engineering from RWTH Aachen University. Since 2010, he has been working as a research assistant at the Fraunhofer IPT, initially in the area of CAx technologies and laser material processing, and since 2018 as head of Competence Field Digitalization and Interconnection.
Mario, what are your tasks at ICNAP?
As ICNAP Research Manager, I coordinate all of ICNAP's publicly funded research activities. This includes a research project in which we are developing a self-assessed digital twin and a self-configuring AI. We derive the concrete research topics from the ICNAP community, so that an industry relevance and a benefit for the community are given.
What drives you?
I find it exciting to be able to work across disciplinary boundaries with a wide variety of stakeholders. In the ICNAP Research Project, scientists from the three Aachen Fraunhofer Institutes work together. Together, we focus on overarching topics of digitalization. Each institute contributes its expertise and its perspective. Bringing these different perspectives together and bundling them is super exciting.
What do you want to achieve with your work?
Digitalization has been a big topic in the industry for many years. I would like to make a contribution to realizing the vision of continuously networked, adaptive production. To this end, many research projects are developing practical solutions for industry that enable a direct increase in efficiency and quality in production.
Why should companies become part of the ICNAP community?
Many companies would like to tackle the topic of digitalization in production themselves. Often, an external view of the technologies and circumstances helps with the implementation. This is what ICNAP offers with its network of research institutes and industrial companies. In addition, our scientists conduct targeted research in the studies to answer the questions that are most exciting for the companies. And, of course, the discussion with IT companies, directly in the community, also helps.
What are the current questions and challenges in the area of digitalization?
Data can already be read out of many production machines, stored and then evaluated. However, a holistic view of a use case must always offer a direct benefit. One current challenge, for example, is the processing of data in real time in order to be able to directly influence production processes. In this way, quality and throughput can be analyzed and also increased. This requires precise synchronization of the various source data, aggregation and transmission in a precisely defined time window.
This is just one example of many challenges in digitization. But it is not always necessary to start with the most complex issues. Often, a big step towards digitalized production is already taken with a clear visualization of all process data in a production plant.